Virtual Event — April 21–24, 2021
In Real Time: German-American Studies Around the Globe
— REGISTER BELOW —
This four-day virtual conference features 15 sessions with presentations by scholars from around the world, covering the German-American experience from colonial times to the present. Topics include history, politics, culture, linguistics, science, and more. You will also have a chance to connect and socialize with other attendees and presenters throughout the event.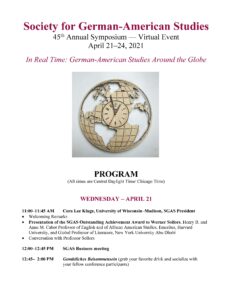 Click HERE for the conference program.
Registration is required for this event. The SGAS is a membership organization. Members always save on meeting registration rates and enjoy other benefits. To join the SGAS or to renew your membership for 2021, click HERE.
Registration rates
SGAS Member: $40
SGAS Student member: $20
Guest:  $75
REGISTRATION IS CLOSED