Virtual Event — April 21–24, 2021
In Real Time: German-American Studies Around the Globe
— REGISTER BELOW —
This four-day virtual conference features 15 sessions with presentations by scholars from around the world, covering the German-American experience from colonial times to the present. Topics include history, politics, culture, linguistics, science, and more. You will also have a chance to connect and socialize with other attendees and presenters throughout the event.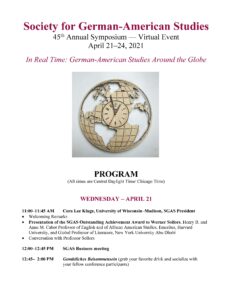 Click HERE for the conference program.
Registration is required for this event. The SGAS is a membership organization. Members always save on meeting registration rates and enjoy other benefits. To join the SGAS or to renew your membership for 2021, click HERE.
Registration rates
SGAS Member: $40
SGAS Student member: $20
Guest:  $75
Once we have received your registration, you will be emailed a link to the Symposium platform and further details. Links will be sent out by April 15.
If you have questions, please contact Antje Petty.
REGISTRATION
Please fill out this online registration form. Pay after clicking "Submit" at the end of the form. You will be taken to the PayPal platform, where you can pay with your credit or debit card. (You do not need a PayPal account). Your PayPal receipt is confirmation of your conference registration.